Assembled in the U.S.A. from U.S.-made components. A 100% woman-owned enterprise.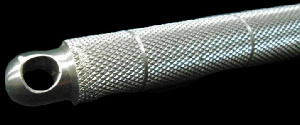 OUR NEWEST ITEM, THE PORTABLE ROD
BAG, IS WATER-RESISTANT, HOLDS UP TO 25
STANDARD (3/8"X18") FIRE WIRE RODS AND IS
DESIGNED TO BE ATTACHED TO THE DIVER'S BELT FOR
EASY ACCESS WHILE PERFORMING A CUTTING JOB, REDUCING
THE NEED TO CONTINUALLY RESURFACE FOR MORE RODS.
THE SHACKLE BREAKER OFFERED BY FIRE WIRE MARINE IS A GENERAL PURPOSE TOOL USED PRIMARILY BY COMMERCIAL DIVERS TO OPEN
RUSTED OR OVER-TIGHTENED SHACKLES. THE TOOL IS 8 INCHES IN LENGTH, WITH A BODY DIAMETER OF
1/2-INCH, TAPERING TO 1/8-INCH. THE TOOL IS MADE OF 100% STAINLESS STEEL
AND IS KNURLED TO PROVIDE A NON-SLIP GRIP SURFACE. A
LANYARD HOLE FOR EASY ATTACHMENT TO THE DIVER'S
BELT IS PROVIDED.